Work with us.
Join us in our mission to create a healthier digital world
Explore more

Fast Growing Company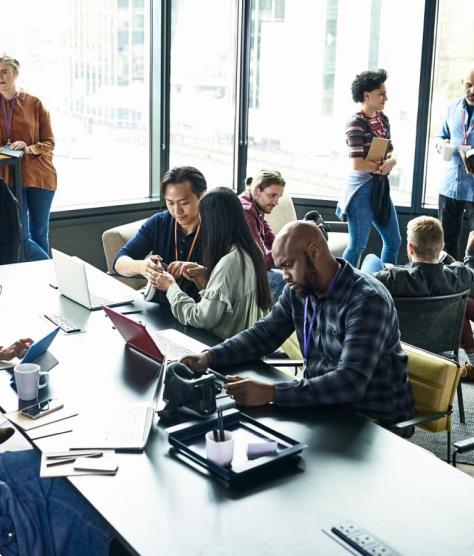 Shared Success
About working here

SIG is a platform-based software analysis and consulting firm that advises clients on software build quality, including software risks and software economics. Software doesn't need to be a black box anymore: we provide management with fact-based insights into their current software landscape, along with actionable recommendations on how to improve that situation.
And we're just getting started
We know how to refactor code, govern software projects effectively, use modern tooling and development platforms, apply software metrics, and how to control cost. We perform both in-depth technical analysis and management level financial analysis and consolidate the two. Our research team advances the state of the art in software research.
Join our team
Apply now and discover what it's like to be part of SIG.
Application Process
What You Need To Know
When applying for a position at SIG, the first thing you are asked to do is to fill out the online application form. Here you provide your basic details and, you can upload your CV and cover letter. This is your first chance to distinguish yourself by writing a proper CV and cover letter.

For open applications, please send your cv and motivation letter to work@sig.eu.
14
New Job Positions
Our Company Values
We're committed to a set of core principles that drive us in our mission:
Integrity We are honest, trustworthy, genuine, and always aim to do the right thing – even if we have something to lose.
Independent We serve our clients and partners best, by staying objective and advising without bias, restrictions or affiliations.
High Quality We deliver our work with the highest standards of professionalism and excellence to achieve exceptional results.
Fact based We draw solid conclusions and make sound decisions based on facts and data, not opinions and gut feelings.
Respectful We embrace our rich diversity to create a work environment that's inclusive, helpful, and supportive for all.
Inspiring We are energized and engaged in work full of purpose, leading the way to a healthier digital world.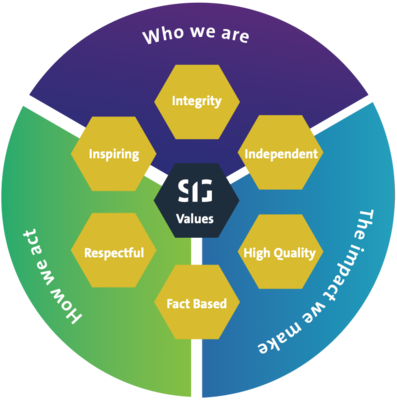 Working at SIG
Product & Innovation @ SIG
Our product and innovation teams are where the future of our products is determined. They receive input from all sides of the industry: they learn what's happening at our clients, and which ideas actually stand the test of practical application and which don't. They work together with our consultants to make sure our products are aligned to client expectations. They keep tabs on what's happening at our competitors, and where the industry is heading as a whole. They work with our research team to turn innovative research into real products. From all these inputs, they determine how to turn the collective knowledge of SIG into something that can be added to Sigrid, our Software Assurance Platform. They then work with our development team to further improve and expand these ideas, and with our consultants to deliver them to our customers.
Software Development @ SIG
Our Development team is continuously improving and expanding Sigrid. This is no small task: we are adding new analysis capabilities; we are growing and developing our front ends to become more intuitive, integrated and feature-rich; we are preparing our backend to scale and handle more code, faster. As you might expect, we hold quality in high regard: we measure the quality of our code, our process and our operations, more than you might be used to. We code, write tests, review, discuss and refactor if needed.

As you might expect, we hold quality in high regard: we measure the quality of our code our process and our operations, more than you might be used to. We code, write tests, review, discuss and refactor if needed. We don't just spit out features and move on to the next thing. We automate things wherever we can and throw out stuff we no longer need. In the long run, quality equals speed. Some data you may be interested in: we have a Java backend, Angular/Typescript frontend. Our pipeline starts in Gitlab, which produces docker containers handled by Nexus deployed on a Puppet-managed cloud infrastructure.
Consulting @ SIG
As a consultant, you will work with technology leaders to help them get their software right. This is all about improving quality, reducing risks and controlling costs of their business-critical software systems. In some cases, clients want us to take a deep dive into their situation and provide them with advice on how to move forward, in others, they want us on board for a longer period of time to help them make their transformation projects a success. The diversity of clients and projects gives you a unique and very broad perspective on the software industry, probably more so than anywhere else. This diversity may test your context-switching skills at times, but now that you're not out there on your own. Not only do we always work in teams, you're also armed with the most advanced tools and products available, courtesy of our innovation, product, development and research teams, or 'team CTO' as we affectionately call them.

As a core member of the software consultancy team, you will analyse the systems that are being assessed. Your role is to get a good understanding of the system in a short period of time, and validate your findings and hypotheses with the development teams.
Research @ SIG
Our research department offers a unique opportunity in a challenging industrial context, focusing on innovation and pragmatic solutions for software improvement, while still maintaining scientific standards of quality. The Software Improvement Group has scientific research at its core, with a dedicated research team hosting several PhD and Postdoc researchers, several active collaborations with academic partners, and plenty of colleagues with PhD degrees.

Our research team advances the state of the art in software research. SIG has ample experience in hosting Master-thesis projects, as we host between 5 and 10 MSc students each year. We are proud of the 8.5 average graduation grade of our interns. Also, many current employees of SIG have been a research intern with us in their early careers.