Maximizing customer value through VodafoneZiggo's in-house software development capability
19 October 2021
5 min
Key Takeaways:
VodafoneZiggo has taken a quality-first approach with its build of a new Software-Defined Networking (SDN) landscape with best of breed suppliers.
The company selected NetRom as its software supplier due to a strong focus on quality; SIG as its quality partner to guard the architecture and ensure this approach results in a well-maintainable, secure, reliable, and high-performing software landscape, while keeping all intellectual property internally; and Codaxy to build a robust self-service capability for the portfolio.
Results of this collaboration included a new competitive value proposition for VodafoneZiggo, improved ability to respond quickly to evolving customer needs, and enhanced user experience.
---
The importance of enough digital capacity
The COVID-19 pandemic has underscored the importance of digital capabilities across industries, accelerating the need for digital transformation. Whether driven by a need for remote working or change in business models, CXOs all over are asking themselves how to organize for this digital transformation. Questions such as 'Do I build an in-house software development capability or buy externally?' and 'Should we adapt off-the-shelf solutions or build custom applications?' are topics high on the management agenda. In this article we share a case study of a collaboration between VodafoneZiggo, Software Improvement Group (SIG), NetRom software, and Codaxy, where building the VodafoneZiggo in-house software development capability is the central theme on the agenda, a trend that NetRom recognizes as one that has substantially accelerated an already growing shift towards Outsourced Product Development (OPD) service providers with vertical specific capabilities.
The step to in-house software development
Companies are embracing in-house development to quickly scale technology skills, resources and build fit-to-need solutions for increasingly demanding customers. With its Flex value proposition for medium to large size enterprises in the Netherlands, VodafoneZiggo set out to create a product unlike any other, deliver this within a highly ambitious time-to-market, and meet the highest security standards all within a single ecosystem. While corporate organizations traditionally opt for larger off-the-shelf solutions from big software houses, VodafoneZiggo recognized the need for its in-house development capability to deliver this value proposition and outperform the competition.
VodafoneZiggo Program Lead Joao Borges explains, 'Balancing the equation of greatest value for our customer, fastest time to market, and quality of the software product, we determined that in-house software development would be the most sensible option for us due to the complexity and level of integration of our Flex value proposition.'
Based on these beliefs, VodafoneZiggo has taken a quality-first approach with its build of a new Software-Defined Networking (SDN) landscape with best of breed suppliers. The company selected NetRom as its software supplier due to a strong focus on quality; SIG as its quality partner to guard the architecture and ensure this approach results in a well-maintainable, secure, reliable, and high-performing software landscape, while keeping all intellectual property internally; and Codaxy to build a robust self-service capability for the portfolio.
Achieving high quality supplier output and productivity
VodafoneZiggo set forward to help companies with their digital transformation through a new data infrastructure and network built on top of SD-WAN, creating a secure corporate network to which all branches, locations or offices of an organization are connected and easily accessible, managed by the company themselves.
The company's new digital customer journey is a substantial technological challenge, as it aims to centralize all customer entry processes, split the individual order lines, orchestrate all requests to provision the separate products, and consolidate billing and pricing in a zero-click process. In particular the non-functionals of software development, such as maintainability, security, performance and reliability, are essential for the service to function effectively.
VodafoneZiggo searched the market for the right suppliers to build the new Digital Customer Journey. Over the course of a decade-long working relationship, VodafoneZiggo has come to view SIG as a trusted advisor in building and maintaining robust, secure, future-proof software.  SIG was therefore called in to support the supplier selection process, assess feasibility of supplier qualifications against established market standards, and define the "best fit for purpose."
'NetRom was ultimately selected based on its demonstrably high level of quality awareness and expertise in delivering custom-developed software in a distributed environment,' explains Werner Heijstek, Principal Consultant at SIG. 'We observed NetRom's ability to employ a wide variety of technologies according to best software engineering practices (Agile/SCRUM, automated testing), tooling (Version control, JIRA), as well as security principles (ex: ISO27001 training for developers) – all while maintaining transparency for the client.'
---
The Solution: Quality-first collaboration between Product Owner, Suppliers, and Quality Partner
At the foundation of this collaboration is an accountability process, where all parties "keep each other sharp." Borges describes the collaboration as 'The ideal set-up to deliver VodafoneZiggo's in-house software development capability, ensuring the highest industry standards in terms of quality and working in partnership with best-of-breed suppliers.'
SIG employs its proprietary methodology based on ISO/IEC 25010 to measure the quality of the source code underlying software applications. The results from these standardized, repeatable measurements are then compared against the SIG benchmark – the world's largest, containing nearly 50 billion lines of code – to derive a system score on multiple aspects of software health, including maintainability, security, performance efficiency, architecture quality, and reliability.
In the collaboration, SIG advises the NetRom and Codaxy development teams on an ongoing basis, providing guidance, transparency and assurance into the quality and maintainability of the output. SIG inspects and measures the quality of the solution and shares the results on a regular basis via advisory sessions with the NetRom, Codaxy, and VodafoneZiggo teams. Any necessary course corrections identified are supported with ongoing coaching by SIG consultants. This setup facilitates a successful platform for a broader multi-vendor landscape, allowing vendors like NetRom and Codaxy to efficiently connect with the overall product delivery agenda and contribute to the effective multi-vendor collaboration.
---

---
1. A new competitive value proposition, fit to customer needs
VodafoneZiggo's Flex value proposition offers a fast connection, is highly flexible in use, provides easy admin through self-service, and delivers real-time insight into usage and requirements. The proposition offers multiple products in a single ecosystem with a zero-click provisioning system. A Software Defined Wide Area Network (SD-WAN) solution that gives customers full control of their network, it connects to any company network (without requiring a Vodafone network); offers immediate use of network applications, alarm systems and pin-based payments upon opening a new location; can be set-up in real-time using the self-service portal with full control; and provides insight into all data streams within the company network.
2. Lightning-fast response to evolving customer needs
The quality-first collaboration between VodafoneZiggo, SIG, NetRom, and Codaxy has been designed to deliver superior performance in productivity and effective management of partners in delivering the value proposition to market. This is essential for VodafoneZiggo in order to respond to evolving customer needs in its product development. On average in the Telecom industry, time to market for a software product ranges between 1 to 3 years. VodafoneZiggo, however, is able to deliver product increments to market in a 2 week interval following an agile development methodology with an average time of ideation to go-live of only 90 days. 'Vodafone Flex is a relatively new value proposition that only started a few years ago, initially only offering 1-2 services,' says Jo Smits, Technical Product Manager of Vodafone Flex. 'Now we have almost 10 services in a fully integrated portal.'
3. Maximizing User Experience for VodafoneZiggo's customers
Maximizing the user experience for VodafoneZiggo customers is the single most important objective for the Vodafone Flex team, aiming to make ordering and changes to the network set-up as easy and fast as possible. Borges describes the results as 'Power to the customer! Combining various products in a self-service portal is a huge ask from our customers. We continue to mold the value proposition and shape our offerings to improve their user experience.'
Through zero-click provisioning and lean product development organization, VodafoneZiggo also maximizes the cost effectiveness of its value proposition. In product development, effective prevention of technical debt, strong security parameters, and maintainability of the software solution contribute to this outcome. 'Focus on customer value is the most important objective for Vodafone," says Erik Kroon, Program Lead Architect at VodafoneZiggo. 'All results drive towards satisfying this objective through a combination of optimal user experience and maximizing cost effectiveness.'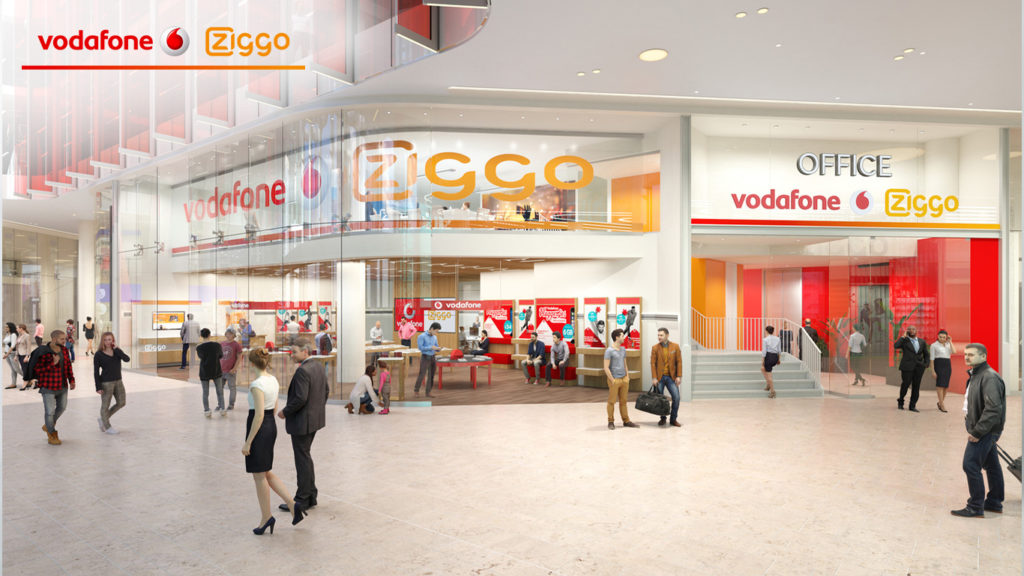 Critical Success Factors
1. Mature internal IT organization
A mature internal IT organization is critical for maximizing the return on investment from an in-house team, where product owners are responsible for managing the 'product backlog' of work and software architects create a plan that describes a set of aspects and decisions important to a software product. 'In the collaboration with VodafoneZiggo we see a great example of a mature product development process and a very experienced product owner and architect,' says Mircea Negrilla, CTO of NetRom. 'The impact of this level of maturity is immediately visible in the velocity of the scrum teams.'
2. Culture of quality, co-creation and accountability
A culture of quality, co-creation and accountability is fully ingrained in the DNA of the involved teams. From the start of the program there has been an immense focus on quality beginning with the vendor selection process, where NetRom was ultimately selected due to its culture of quality. With a fully dedicated Quality Assurance department with ISTQB certified engineers and a "borderline obnoxious" focus on full integration testing the NetRom team is able to ensure maintainability and security while minimizing the build-up of technical debt.
In the broader collaboration a culture of co-creation and accountability is adopted. Through it's vertical-specific knowledge base, NetRom is able to drive co-creation in design of the technology solutions based on convictions built up through relevant experiences in the sector. Unlike a remote staffing model that is common in outsourcing of software development, the team drives towards shared convictions on how to address the architectural set-up and shares accountability over the outcome of the product and business challenge.
3. Open and collaborative approach among all parties
Establishing a common purpose has set the foundation and serves as the glue holding the collaboration together. Open and effective communication channels between all three parties continues to keep expectations aligned, facilitate smooth operation of day-to-day activities, and drive overall project success. This, combined with a conscious effort to connect beyond the scope of the delivery and hold in-person meetings between the teams in the Netherlands and Romania (prior to the COVID-19 pandemic) on a recurring basis, drives a 'one-team, one objective' mindset.
'The ultimate objective for all parties – the product owner, the quality partner, and the supplier – is to make the product the absolute best it can be,' says Heijstek. 'With this primary focus on product quality, communication stays open and transparent and any issue is viewed positively as an opportunity for improvement.' This shared objective and shared commitment contributes to a true 'in-house' software development capability for VodafoneZiggo.
Related Case Studies
Swipe