M&A IT DD: 5 Reasons To Analyze The Source Code
Globally there is an acceleration in the digitization and virtualization of business. Industries are responding to this change in demand by rapidly transforming their business to compete in the digital world. 2021 will be the biggest year for global mergers and acquisitions, with a 133 percent increase in the technology sector. Companies are reliant upon M&A as a strategy to accelerate transformation. Ensuring there is no controllable risk, a comprehensive review of the underlying IT and source code will provide complete transparency. There is a high level of complexity within IT, and this requires rigorous IT Due Diligence (IT DD). An IT DD should investigate qualitative and quantitative components and report how the software will affect strategic goals and growth.

Acquiring high-value IT assets comes at the risk of assuming unwanted technical debt and hidden security vulnerabilities. Performing documentation reviews and technical interviews are not enough. M&A teams need to dive deep into the source code, which unfortunately is not yet common practice. By analyzing underlying digital assets, buyers can identify and quantify hidden investment risks and opportunities. Buyers are at risk when they invest in a black box and can find out too late when an investment doesn't support strategic goals for efficient execution or scalable growth.
Can a buyer review software quality and protect the seller's intellectual property?
Yes! The buyer and the seller can agree to put the source code in an escrow and employ an independent third party experienced in analyzing software to an internationally accepted standard. A software analysis-driven approach can provide an unbiased and fact-based assessment of a custom application or an entire IT portfolio. Sell-side can resolve issues in advance of buyer involvement, resulting in a streamlined acquisition and often a higher valuation. Buy-side can identify current and future risks or opportunities that can impact the business in a secure environment providing insightful context to some of the most critical questions:
Does the technology support your future growth plans? Are any expensive investments necessary? Can it be easily integrated into a new IT landscape?

What are the projected maintenance costs? Can it be easily adapted?

How will the application perform with more users or data? Will it be able to scale and support future growth and business objectives?

Are the IT systems secure? Are there any IP-related issues in the source code?

How strong is the IT Team? How complex is the IT environment? What is the capacity for innovation? Does that delay time-to-market?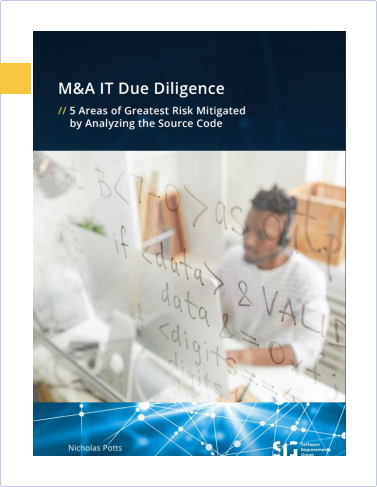 Read the eBook for an in-depth explanation of how digitalization is changing the dynamics of M&A transactions and the 5 areas of topmost risk.
Oops! We could not locate your form.